ACOBIOM presents the clinical benefit of GemciTest® at ASCO 2021

Pancreatic ductal adenocarcinoma (PDAC) is highly lethal often presents at a later stage. Gemcitabine is still an important component in PDAC treatment however there is no routine biomarker to predict its efficacy.
From a previous clinical study, ACOBIOM identified two separate RNA-blood signatures in 60 patients showing an association with the Progression Free Survival (PFS) and the Overall Survival (OS). From these two RNA-blood signatures, the company developed GemciTest®. This CE molecular test requires 2.5ml whole blood sample before starting the patient's 1st line chemotherapy. From this liquid biopsy, this In-Vitro Diagnostic measures the expression levels of nine genes using standard real-time PCR processes.
The abstract presented to ASCO 2021 is a study synthesis of the clinical performance of blood-based RNA signatures (GemciTest®) for the gemcitabine response in advanced pancreatic cancer.
In this study, clinical validations were done on 214 patients (mean 68.7-year-old; 37-88) from 3 distinct cohorts with the University of Wisconsin Biobank, GemciPANC clinical trial (NCT03599154), and BACAP (NCT02818829). These cohorts included first-line treatment with either a gemcitabine or fluoropyrimidine based regimen.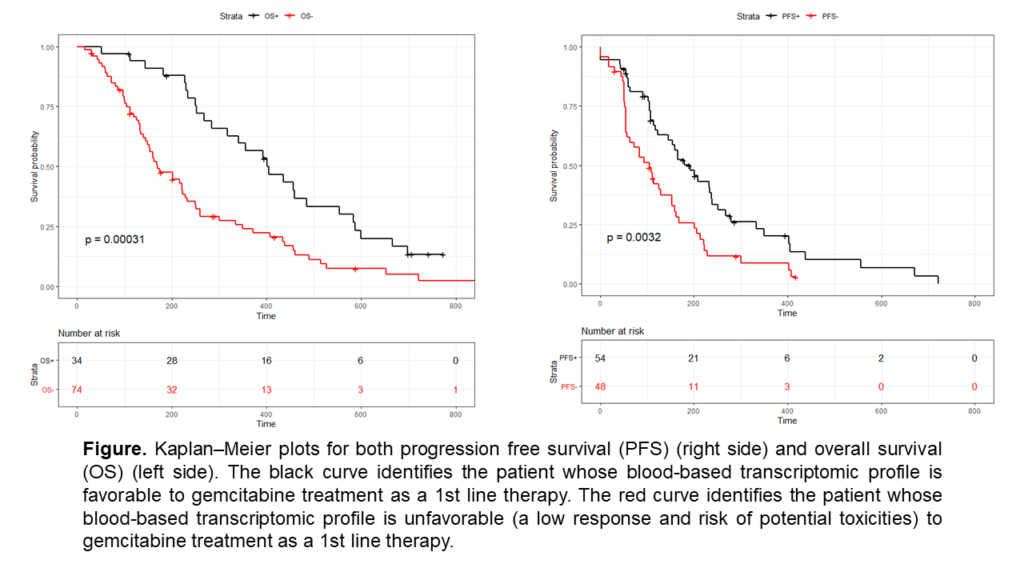 The results of the study show that patients with a clinical benefit response identified by GemciTest® (31.5%) had a significantly longer progression free survival (PFS) (5.4 months vs. 3.1 months p = 0.0032) and a longer overall survival (OS) (13.1 months vs. 5.4, p < 0.0003). In multivariate analyses including tumor localization and performance status, the GemciTest® signature continued to be associated with PFS (HR = 0.52 (0.34–0.81) p = 0.003) and OS (HR = 0.44 (0.28 – 0.69) p = 0.0002).
The abstract has been published with the support of Dr Noelle LoConte (University of Wisconsin, Carbone Cancer Center, USA), Dr Jérôme Cros (APHP, Paris, France), Pr Barbara Bournet (BACAP, Toulouse hospital, France) and Pr François Ghiringhelli (GemciPANC clinical trial, CGFL – Centre Georges-François Leclerc, Dijon, France).
---
About ACOBIOM-UWCCC collaboration
Since 2018, ACOBIOM and the University of Wisconsin's Carbone Cancer Center (UWCCC, Madison, Wisconsin, USA) collaborate with the objective to develop Precision Medicine approach in the field of pancreatic adenocarcinoma treatment. This partnership will permit the development and the clinical validation of predictive diagnostic blood tests enabling the identification of patients who are most likely to benefit from the different treatments. These blood test aims to support physician decision making and adjusting treatment practices in pancreatic cancer.
About ACOBIOM-BACAP collaboration
In 2018, ACOBIOM and the Toulouse Hospital signed a 2-year partnership to give to the company the authorization during to have access to BACAP database, a clinical and biological program that aims to collect in one database: clinical and epidemiological data, as well as associated biological samples, collected from pancreatic cancer patients. These patients suffering from pancreatic cancer will be enrolled by the several clinical centers, partners of this program. Granted by INCa and validated by the different French regulatory authorities (CCTIRS, CNIL, CPP, collection authorization obtained from French Health ministry), the BACAP program enrolls the patients (more than 1000 so far) that gave their informed consent.
About the multicentric clinical trial GemciPANC
In 2018, the CGFL (Centre Georges-François Leclerc, Dijon, France) launched an exploratory study to evaluate Gemcitest™ in patients with pancreatic cancer treated with chemotherapy. The objective of this multicentric clinical trial is to evaluate the prognostic value of Gemcitest™ in patients diagnosed with pancreatic cancer, operable or not, metastatic or not. To evaluate this blood-based molecular test, Blood samples has been be drawn from patients prior to the administration of 1st line chemotherapy. Patients have been followed according to the French centers' standard procedures for their pathology.