Services in Genomics, Transcriptomics and Bioinformatics
Acobiom provides a wide range of omics services to identify and/or to validate biomarkers in the fields of life science research and translational medicine. These services are based on a scientific expertise, a unique 20-year know-how in molecular biology (genomics, transcriptomics), and a suite of dedicated and accurate bioinformatics & biostatistics tools. The objective is to making sense to the generated omics (big) data.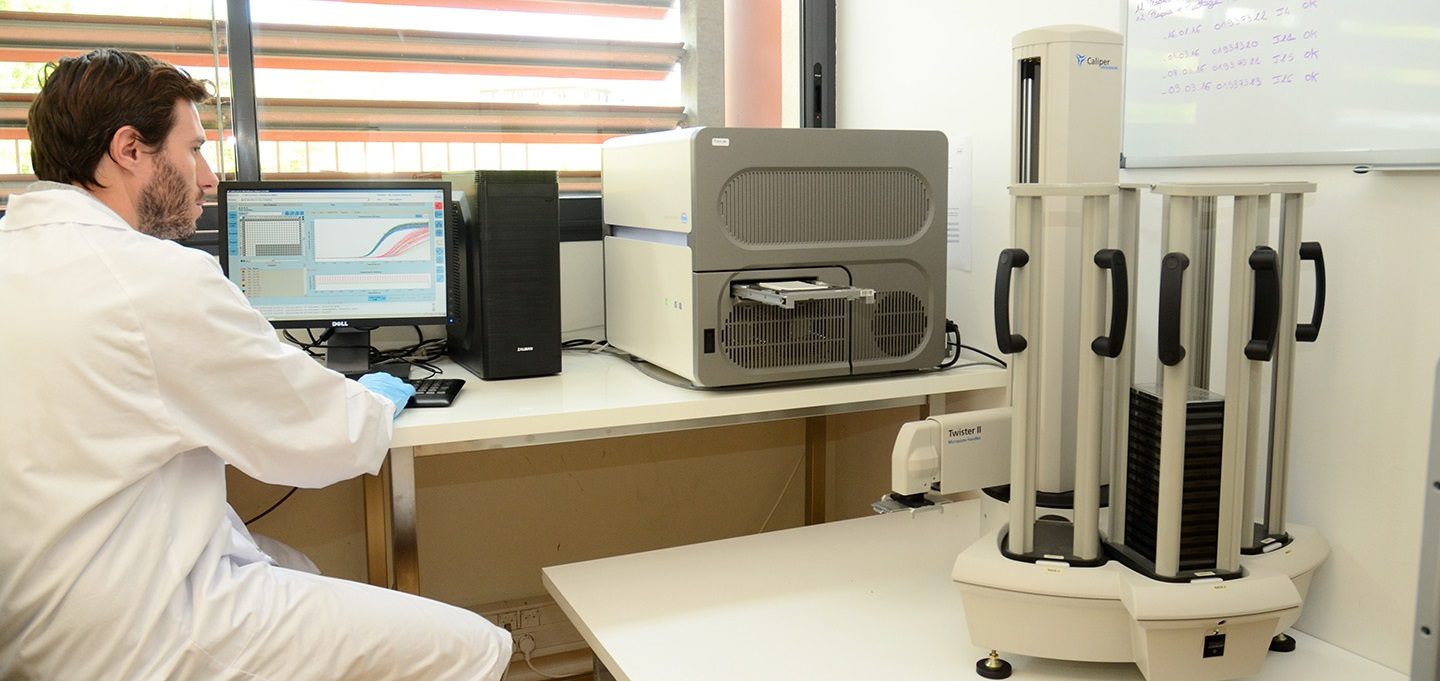 Customized services to identify biomarkers by sequencing approach
Acobiom provides Next Generation Sequencing services using the appropriate platform according to the project and to customer's expectations. From the extraction of Nucleic Acids (RNA/DNA) to the Bioinformatics treatment and Biostatistics analysis, Acobiom provides a range of services described in the following workflow:
> Experimental Design and analysis plan,
> Extraction and Sample preparation,
> NGS sequencing,
> Bioinformatics treatments & analysis,
> Biostatistics analysis,
> Report and monitoring.

In transcriptomics, Acobiom provides analyses based on RNA sequencing approach (RNA-Seq, for instance) for the deep sequencing of RNA, supporting multiple applications including transcript identification, splice variant analysis and differential expression: non coding or coding RNA, miRNA, long RNA, RNA editing, alternative splicing, degradome…

In other applications, the company can provide the following analyses:
> Whole genome sequencing, De novo genome sequencing, re-sequencing…
> Exome analysis (high throughput exome sequencing approach),
> Microbiome analysis,
> HLA-typing
> Targeted (re)-sequencing approach for deep sequencing of genomics regions of interest,
> Epigenomics analyses: methylome analysis, CHIP-Seq…
> Metagenomics analyses: barcoding…
> Genotyping / targeted genotyping…
Gene Expression or Transcriptome analysis by Sequencing
This gene expression analysis allows to determine in different conditions which genes are differentially expressed by comparing their expression levels. To perform this analysis (gene expression, gene expression profile), Acobiom realizes several technical steps:
> Experimental design,
> Optimization of sampling and storage preparation,
> RNA extraction,
> Library preparation,
> Sequencing,
> Data Quality check,
> Mapping on reference genome,
> Comparison of read counts,
> Annotation of sequences,
> Overview of expressed genes including statistics analysis, visualization and validation
RNA-Seq experiments
Acobiom provides personalized pipeline and algorithms for the gene expression analysis by RNA-Seq experiment according to the project and to customer's expectations. A presentation of a RNA-Seq experiment is drawn below: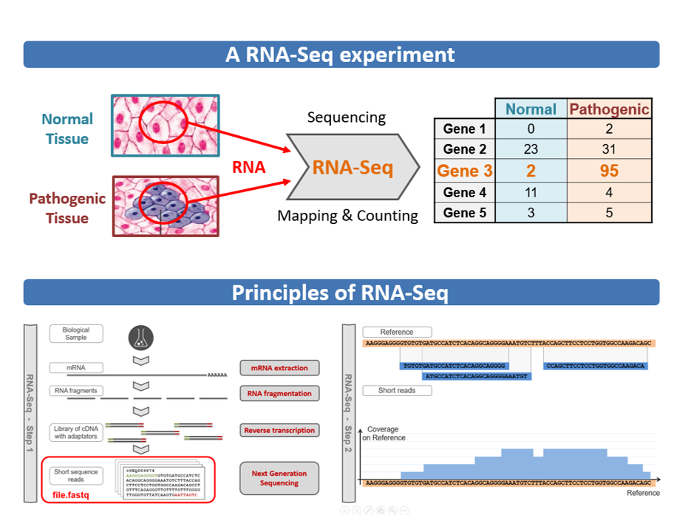 PCR for biomarker analysis
Acobiom provides gene expression analysis services using customized Real-Time PCR (RT-PCR) assay development dedicated to targeted transcripts or a gene panel. The company possesses a huge expertise in PCR (qPCR, RT-PCR, qRT-PCR) for providing the most suitable and complete solution according to partner specifications.

From primer or probe design to data analysis including also sample preparation, Acobiom's team selects the appropriate PCR platform (Applied Biosystems, Roche Diagnostics, Fluidigm…) and chemistry (TaqMan probes, intercaling dye, multiplex assays, HRM…) adapted to client/partner needs (RUO or In-Vitro Diagnostic/IVD device grade).

To make sense to Omics data, Acobiom delivers a report including raw data analysis, PCR specificity, PCR efficiency, assay repeatability/ reproducibility, and specific information dedicated to the provided analyses (according to MIQE guidelines).

To complete its analysis services by PCR, Acobiom can select sets of RNA/DNA biomarkers for routine diagnostic kit through PCR (qPCR, RT-PCR, qRT-PCR) technology.
Omics Services dedicated to Cosmetics
Acobiom uses its genomics and pharmacogenomics expertise to evaluate the effects of natural and synthetic compounds on skin and skin changes.

The company is involved in various studies to identify or analyze (Skin) Biomarkers that will make it possible to further comprehend and/or to validate pharmacogenomics effects of cosmetics products, allowing to generate assets and data about toxicity and efficacy.

Moreover, thanks to a dedicated transcriptomic database including more than 1,100 RNA-Seq human skin profiles, Acobiom can assist its clients and partners on finding or validating Biomarkers or Targets in order to develop new formulation, new compounds and products.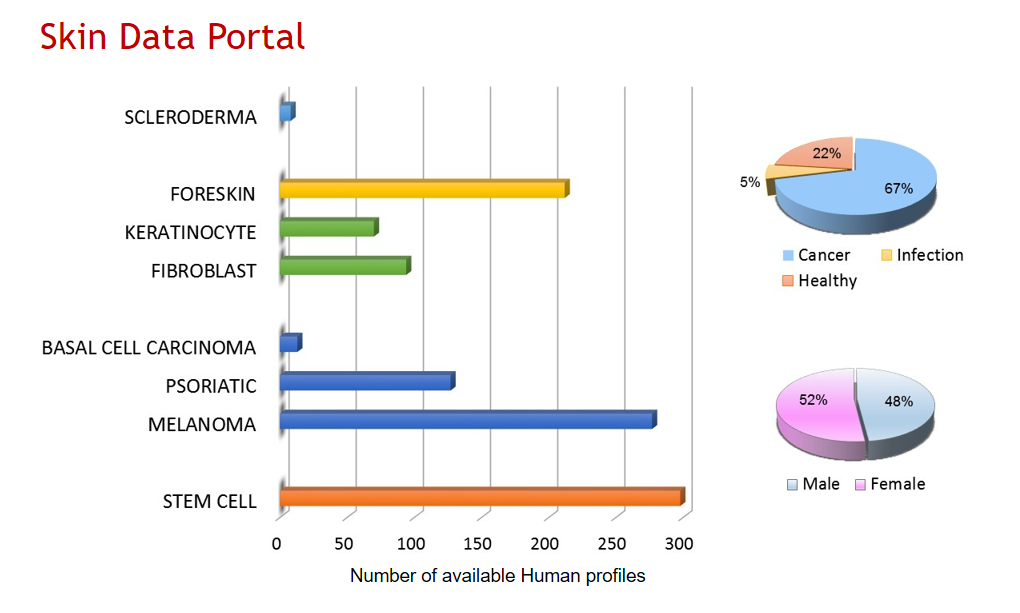 Why dealing with Acobiom?
Acobiom developed, validated and brought into clinical practice biomarkers and diagnostics based on its state-of-art experience and technologies. Dealing and partnering with Acobiom brings full advantages for its partners as:
– A unique Proprietary Biomarker Platform including multivariate Genotype/Phenotype resources,
– Over 20-years' experience in customized analyses to identify and validate RNA/DNA biomarkers from different tissues and liquid biopsies,
– A scientific and process workflow approved/validated by clinical practice,
– Cutting-edge bioinformatics and data science tools,
– Liquid biopsy analyses based methods and processes,
– Top down strategy for biomarker identification,
– No prior information required to identify new biomarkers,
– Large panel of health applications (cancer, infection, hematology, neurology, inflammation…),
– Patents on prognostic biomarkers/predictive biomolecular signature,
– 60 scientific publications related to biomarkers, diagnostics and precision medicine.
The French Research Tax Credit "Crédit Impôt Recherche"
The French Ministry of Research and Technology granted Acobiom the « Crédit Impôt Recherche » approval until 2019, enabling the industry clients of the company to account for its services to their research tax credit.