World Pancreatic Cancer Day 2019

On next November 21, 2019, the World Pancreatic Cancer Day 2019 will be organized.
Key information about pancreatic cancer
Pancreatic cancer is one of the world's deadliest cancers. This cancer develops when cells of the organs grow out of control, developing a tumor.
The pancreas is a gland located deep in the abdomen, between the stomach and the spine. This organ produces enzymes that aid in digestion and makes insulin and other important hormones that help the body absorb sugar and control blood sugar.
It is important to know that, according to the World Pancreatic Cancer Coalition and to IARC (WHO organization), more than 1,250 people worldwide will be diagnosed with pancreatic cancer every day, and an estimated 1,180 will die from the disease.
The incidence of Pancreatic Cancer has markedly increased over the past decades, and it is estimated that 480,000 new cases will be diagnosed worldwide in 2020.
There is not yet a biological or imaging marker that can reliably diagnose pancreatic cancer.
Consequently, pancreatic cancer is usually detected late.
The diagnosis of this cancer is made after a combination of tests and analyses that also make it possible to establish the stage of the disease's progress.
Treatment for pancreatic cancer depends on the stage of the tumor, and the patient's overall health. Standard treatments are surgery, chemotherapy, radiation, or a mix of these.
The decision of to choose one of the therapy is a balance between the patient's medical condition (side effects, patient's preferences, and overall health) and the intrinsic characteristics of the cancer (type, spread and stage of the tumor).
Ongoing clinical trials are investigating new types of treatments in the field of immunotherapy, or new types of approaches based on biomarkers and predictive diagnostics: targeted therapy, precision medicine, etc.
Raising awareness about symptoms and risks
During the World Pancreatic Cancer Day 2019, the World Pancreatic Cancer Coalition "has brought together more than 70 organizations from 30 countries and six continents to raise awareness and inspire action".
"Raising awareness about the symptoms and risks of the disease and the urgent need for earlier detection" will be the main subjects of the different events.
The main symptoms of the disease are:
Pain, usually in the abdomen or back,
Unexplained weight loss,
Jaundice,
Loss of appetite,
Nausea,
Indigestion,
Changes in stool,
Recent-onset diabetes.
The main risk factors are:
Age (chances increase with age, most being 60+),
Obesity, or being overweight,
Pancreatitis,
Smoking,
Diabetes (risk increased with long-term, 5+ years),
Family history of pancreatic cancer.
The world pancreatic cancer coalition published infographics on these subjects with the objective to be shared to the most people.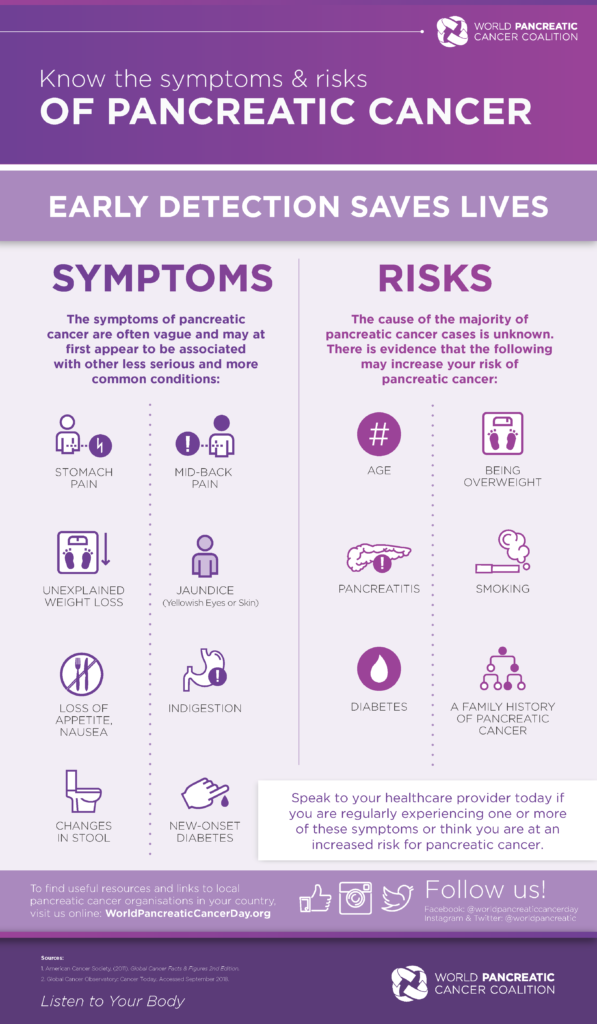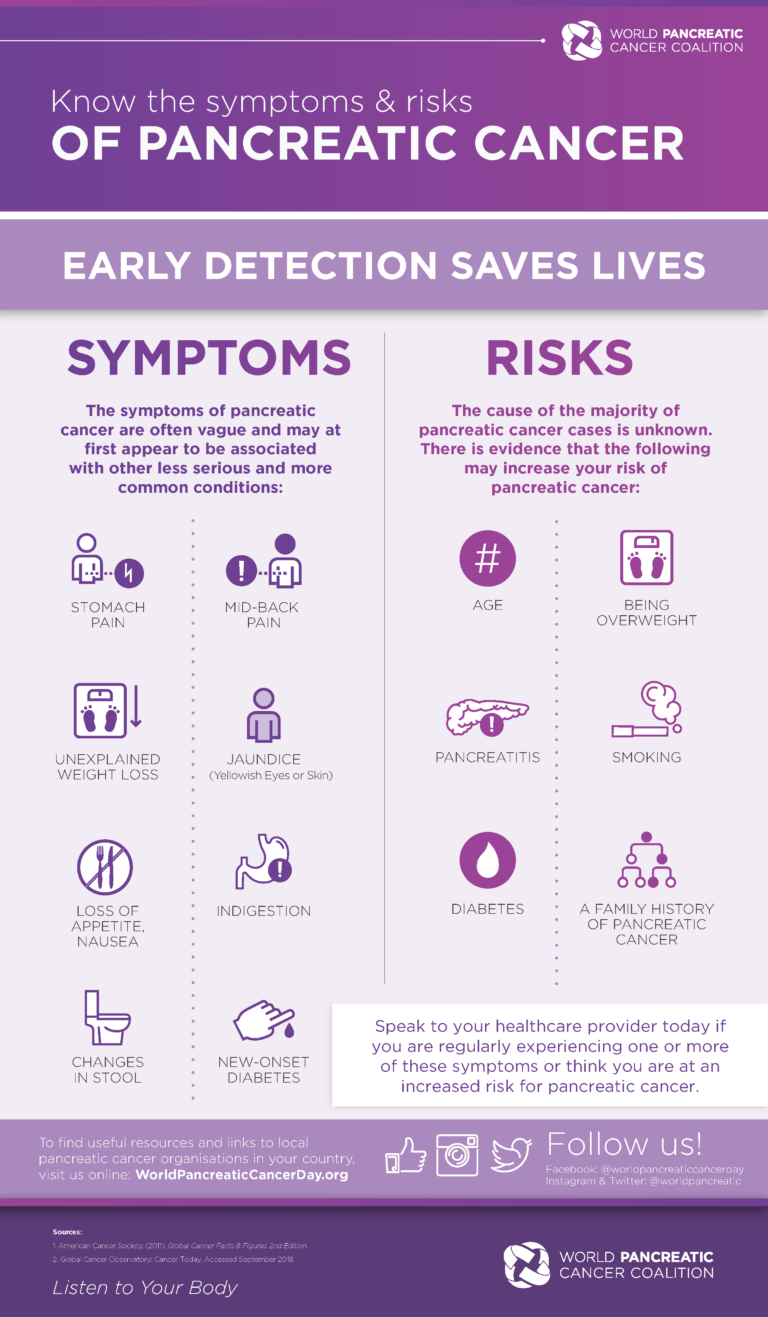 More information the World Pancreatic Cancer Day 2019 can be read on the dedicated website.
More details about pancreatic cancer can also be read on Acobiom's website.